Tyler's Story
He who finds a wife finds a good thing, and obtains favor from the LORD. Proverbs 18:22
 It all began in the winter of 2016; we were living in Minnesota at the time, and we were in the process of moving to Missouri. My dad, grandpa and I took a load down to Missouri that winter, and while we were down there, we visited a fellowship. This was the first time meeting some of the P ____ family. I actually don't remember meeting Anna at that time. Right after that trip, I went to Israel for 2 months, on a pruning trip with HaYovel. My family continued moving everything down to MIssouri. I came back to Missouri that spring, and my family was living at a campground, looking for land. We'd go to the fellowship about every weekend. I'd go to the fellowship too, except when I was in Israel, which was quite often. The first time I recall actually recognizing Anna was the spring to summer of 2017. That's when God began to put it on my heart to begin praying about her becoming my wife.
Well, for the next several months, I kept praying and watching. I slowly began to build some relationships with her siblings and relatives. I stayed quite busy, working with my dad and brother in construction, during this time. I went back to Israel in July for a 3 week trip with HaYovel. While I was there, I really pressed in more, in prayer about Anna. I came back home, and a few weeks later, I pulled my dad aside and asked him if there was a young lady that the Father had put on his heart for me. He told me he had been thinking about Anna and thought she was a great young lady, so we visited for a little bit.  I actually didn't tell him that I was interested in her or praying about her. Right after I talked to dad, I went and found my mom and asked her the same question. She responded with basically the same answer. I once again didn't tell her that I was already interested.
"We never talked to each other during this time"
I spent a few days praying more, and I felt like it was time to move forward and visit with my parents about Anna. I talked it over with them, and they seemed very positive about it, and said they'd pray about it. Over a few weeks, I visited with my parents and we prayed together. Not too long after that, they approved and said they thought it was time to go to Mr. P____. We waited for about a month and half.  One evening I talked to dad and gave him the option of whether he wanted to go visit with Mr. P_____ himself, or have me do it. I was totally up to it, but I really wanted to be under my father's blessing. It was a few days later that dad called me and said he had called Mr. P_____ and set up a meeting time for the following day. It was the evening of November the 27th that my father went and met with Mr. P_____. Dad came home and we talked again that evening, and he said that it seemed to be positive. It was some days later, when we were at the fellowship, that her Dad pulled me aside and we visited privately in a side room. He said that he and Mrs. P_____ had prayed about it, and they had talked to Anna and that she wanted to pray about it
It was then the waiting period, which made it very fun. Over the next couple of months, our families got together, I spent some time with her family, and we saw each other at the fellowship. We never talked to each other during this time. I continued to pray and seek the Father. In early February, my dad, 2 brothers, 4 close friends and Mr. P____ decided to go to Israel for 2 weeks. It was about one week from flying out that he called my dad and asked to have a meeting Monday evening with my parents. I wasn't thinking anything of it; I just thought maybe they had some questions. But my parents arrived home and came to my room and excitedly shared with me the good news that Anna had said YES!!!!  I was so excited I didn't even know how to show it, at that moment. My heart was beating so fast with joy and excitement. A few days later, I met with her father and he gave me permission to propose to her before we left for Israel.
"I slipped out the back door and around the church"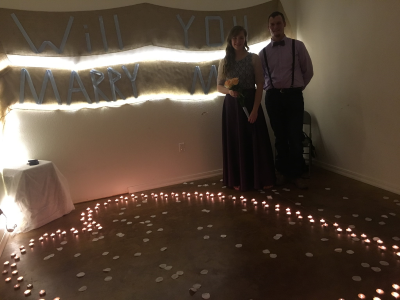 Well, that coming Sunday, her cousin was getting married at the fellowship, and she was a bridesmaid and I was groomsman - go figure! So I thought it'd be great to do a private surprise proposal at the wedding. So Sunday morning, I went to town with a friend and we picked up the items I needed, to do it. I showed up early at the church, and her sister was there, but Anna was still at home getting ready, which was perfect timing. I was given a key to one of the rooms, so we could keep it locked and a secret.  Anna's sister and I were able to set up the room the way I had planned it out. Then, during the reception, I slipped out the back door and around the church, to where the room was. I asked my brother-in-law to help me finish it all. So we lit 120 candles and turned the cameras on, and I gave him the key. He gave the key to Mr. P____, and he went to Anna and asked her to get something out of the room, and gave her the key.  So it's the exciting part now, maybe I should just stop here. The End.
No, I can't do that. ?? So while I waited in the room, I heard the key slip into the lock and turn. Then the door began to open to the most beautiful girl ever, wearing a huge smile. We closed the door, and I, giggling, proposed to her, and she said YES multiple times. This was the first time that we actually ever talked to each other. So we both slipped back out to the wedding and a little bit later, I announced to everyone that Anna and I were getting married. I flew out to Israel 2 days later. After being gone for 2 weeks in Israel, we all returned and began to plan a betrothal. The betrothal took place on March the 16th, and now we are in the waiting time for the wedding. This is a very short version of my story of how it all came about.
 
Anna's Story
 I first met Tyler's family when they came down to Missouri to visit some friends that attend our Congregation. Tyler must have have been in Israel at the time because he wasn't with them. We only saw the family on a couple of other different occasions until the winter of 2016 when his family moved down from Minnesota to Missouri. Tyler was doing a lot of work with a ministry all through that year so I rarely saw him until 2017.
It would have been mid to late summer that I noticed what a good man he was and it also made me wonder why he wasn't married already at 24. I was only 16 at the time and in no hurry to get married; I was totally content to leave that in The Father's hands. Tyler went to Israel for 3 weeks in July of 2017. When he came back is when things really started to change for me. He started visiting with a few of my married siblings and also my two younger sisters. We never talked to each other, but we were in each other's company a lot through the next few months, especially during Sukkot.
During Sukkot he was around our family, playing around and visiting with my siblings; he was always around and yet I never suspected that he was praying about me and observing me from a distance. After Sukkot a large group from our congregation wanted to do a fast from all media and from food with no nutritional value. The fast was 40 days long, and for me this was a time of really pressing into the Father for understanding of his will for my life. Through the 40 days I saw Tyler about 3 times a week. There were a few accountability meetings through the week, and he would always stay late talking with my family. Thanksgiving evening, the 23rd, the fast ended.
On November 27th, 11 days after I turned 17,Tyler's dad came over to talk to my Pa about Tyler's interest in me. When Pa told me that he had talked to him about Tyler being "interested" in me and praying about me for a while, I was really shocked!! I had no idea that Tyler was thinking about me! I knew I wanted to pray about it. During the season of me praying about Tyler and seeking confirmation, I never felt like I could give a confident "yes" even though I really wanted to. December and most of January slipped by and I still hadn't any form of confirmation that I thought I could stand firm on.
"I felt a total peace about it for the first time"
Our day for family activities is Sunday night and Monday. Sunday evening, January 28th, was our regular extended family time, and Tyler would usually come over to visit my oldest brother, but he wasn't planning on coming over that Sunday and was scheduled to leave the next weekend to take a class down in Texas. I wasn't going to see him before he left and couldn't figure why it would bother me like this. I felt so depressed! I just wanted to be able to say yes and make both of us happy.
I felt so helpless and I just wanted to see him before he left. This went on all day; I can't explain what I felt that day, but I'll tell you it was very weird. That evening my sisters finally convinced me to end their misery and ask Pa if Tyler could come over. So I asked Pa, almost in tears, if he could ask Tyler to come over. Pa called him and invited him to come over then told me that Tyler was coming over. I felt so relieved!
My older sister had told Pa how odd I'd been all day, so he called me in for a talk. He said that he understood that I had not been able to come to a place of certainty before about marrying Tyler, but sometimes it was helpful to think about what my thought process was if I contemplated returning a "no" answer. As he already knew, there was no way I could contemplate that. He came over to me and told me that while I had to be certain for myself, the way I had been feeling and acting had made him absolutely sure that it was the Father's will for me and Tyler to be together.
When I heard him say that it was a total confirmation to me. I felt a total peace about it for the first time. It was an amazing feeling not to have to wonder anymore! The Monday after Tyler got back home from Texas, my parents and his parents got together for a meeting. I wasn't sure what all would be decided at the meeting and being the curious person that I am, I came down immediately after they had left. Pa asked if I would accept a proposal of marriage from Tyler before he left for Israel the next week. I said that I could. Then he told me that he would contact Tyler and tell him.
"It felt like I was waiting every moment for something unexpected to happen"
It was very different when I saw him again after that conversation with my Pa. My cousin was getting married at that time. I was a bridesmaid in the wedding and he was a groomsman, so while the preparations were being made on the wedding day, Tyler was secretly decorating one of the classrooms during the whole day. After the wedding when all the bridal party was sitting at the head table, I kept seeing Tyler disappear, so I figured something was up and all I had to do was wait. I didn't eat anything at all that day; I thought if I ate something I might feel even sicker than I already felt.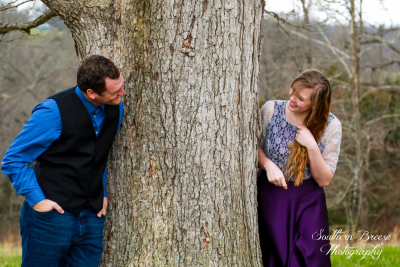 I only got about 3 hours of sleep the night before, as well, so I felt like I was running on empty. It felt like I was waiting every moment for something unexpected to happen because I was a little apprehensive of what Tyler had in store for me. After what seemed like years, Pa came over to me with the keys to a classroom and told me to get some red yarn for him. Red yarn??! Whatever! I knew very well what was going on, but even still it's like my brain stopped working because I couldn't think straight. I could hardly even find my way to the classroom! Let alone try to open the door with the key! I finally got it unlocked and opened the door, and all I saw was a 100+ candles on the floor in the shape of a huge heart that filled up most of the room. There were rose petals sprinkled all inside the heart and a big banner that said "will you marry me" on the wall. I was very overwhelmed.
I looked over and saw Tyler leaning against the wall smiling at me. I'm sure the look on my face had to be priceless, I had no idea he would spend that much time on something like that. He asked me to step into the middle of the big heart with him. He picked up a bouquet of flowers from a little stand and got down on one knee and I don't even remember half of what he said, my mind was reeling trying to believe this was really happening! All I know is when he said the words "will you marry me" I hardly waited for him to say "me" before I was saying "YES" repeatedly. It was such a beautiful moment! Really looking at his face for the first time ever and seeing the joy sparkling from his eyes, I felt like I had to be down right glowing I was so happy!
 
"It was very wonderful to finally be standing beside him"
Tyler told me he was planning to announce it when it was time for the bridal party to give speeches. He announced it in the form of a poem that he had written for the occasion. I had no clue he was going to announce it that way, so in some ways I was as surprised as everyone else! After he made the announcement he came over and stood by me and people began to come and congratulate us. It was very wonderful to finally be standing beside him.
It took me awhile to process that he had actually asked me to marry him, that I had said "yes" and we were actually going to get married sometime in the future. The next day Tyler and I got together with our parents to discuss the next step. We set a date for the betrothal and set in order the parameters for the way we would communicate and interact. The next day Tyler, his dad and 2 brothers, my Pa, and some other men from the congregation were all leaving for Israel for 2 weeks for the pruning. During those two weeks we texted and talked some on the phone. We began to get to know each other. When he got back home we started working on our Ketubah, and other things to do with the betrothal. The day finally came on March 16th we got betrothed in front of our two families.
It was a beautiful ceremony. We drank of the same cup, read our Ketubah, washed each other's feet, and then our parents and grandparents each gave a blessing and prayed over us. Now we are excitedly counting down the days till our wedding.*
*Tyler and Anna celebrated their wedding on May 27th, 2018