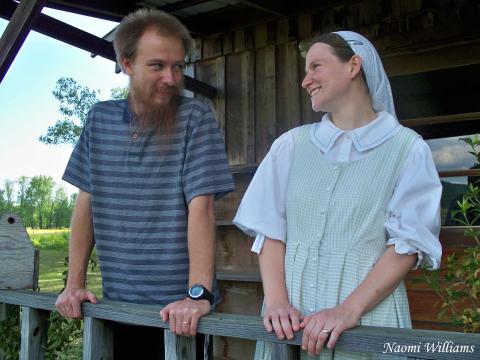 Joshua's Story

I first met Leila in April of 2009 at an annual, weeklong camp called Family Week. I also saw her that fall and again at the 2010 Family Week. I was not around her much except in playing games, mostly volleyball. I was mostly impressed with her volleyball skills at that point, although after we left I began to hear many good things about her from my mother and sisters.

In May 2010, the Clemons family came out to Colorado for a couple weeks, camping out with a group that my family was a part of for a week and then coming to our house for a couple days' visit. During those two weeks I began to notice that Leila was very content, cheerful and fun to be around and for the first time wondered about whether she might be the woman the Father had prepared to be my wife. I was able to learn more about Leila by various means while the Clemons family was there and after they left from listening to, and encouraging, my sisters to talk about her.

That fall I went to Israel on a ministry trip and returned to Tennessee where my family had been camping. As we got ready to head home, we ended up staying at the Clemons' house for a couple days. We played games and talked as a group quite a bit. I had a very nice time and felt more comfortable around Leila than I had around any other young ladies not my sisters. I left with a very high opinion of her.

That winter my parents talked to me and said that they believed that Leila would make a good wife for me and after we had talked about some things, I began to pray for guidance specifically about Leila. At the 2011 Family Week, I had a total of about five minutes contact with Leila despite my initial hopes since our camp sites were relatively close together. I continued praying about her through the summer, but did not feel like I was hearing anything definite from the Father on it although I did become convicted that the Father wanted me to go to Israel for a longer trip that fall.

I ended up going to Israel for about three months and because of an agreement I had signed with the ministry group, I did not pray about Leila during that time. Once I returned in November, I resumed praying and quickly began to feel like the Father was telling me that it was His will. In February, I received my final confirmation and the next morning, without my having said anything, I found that my parents were already planning a trip with the Clemons to a Christian film festival in San Antonio, Texas.

I wanted to talk to Mr. Clemons first to stay within the family authority structure that the scripture lays out. While we were in San Antonio, I finally managed to find a time to talk to Mr. Clemons privately about what I was thinking, and he told Mrs. Clemons and Leila. They left before my family did and soon after they arrived home, he began emailing me. Through March I emailed Mr. and Mrs. Clemons and then Leila, with all the emails being read by me, Leila, her parents and my parents. It was suggested, and eventually worked out for me to fly in to stay with the Clemons for a few days and then ride with them to the 2012 Family Week.

My arrival at the Clemons house and seeing Leila there was a little awkward, at first but they treated me like part of the family and so I ended up spending a few days there being around Leila a lot, but not really having a chance to have a talk with her specifically. The evening of the day before we were to leave for the campground we had a talk about books and that night I had difficulty sleeping as I felt I was in danger of becoming attached to Leila which I did not want to happen until after we were committed to getting married.

The next afternoon, Mr. and Mrs. Clemons told me that Leila actually was ready to commit to marrying me and after talking to her that evening, we decided to announce it early during Family Week. After proudly making the announcement, I spent most of my free time for the next two weeks with Leila, and we learned more about each other and prepared for our betrothal ceremony which we had on April 15.
Leila's Story

The story of how Joshua and I got together is a story of one miracle after another! Our Heavenly Father was guiding us every step of the way.

Every year my family goes to an annual camp-out called "Family Week." That is where we first met the Williams family. They had a lot of children who were fun to be with, so I became friends with their daughters pretty fast. We saw their family once or twice every year and we went to their house for a visit once, while we were in Colorado 2 years ago. At that time, we didn't know that I was destined to become a Williams myself.

In February this year, my parents decided to split the cost of renting a house with the Williams in San Antonio, Texas since both of our families wanted to attend the Christian film festival there. Again, my parents didn't know what was going to happen. It was during the festival that I found out that Joshua was hoping to marry me. I was very surprised when Daddy told me about his conversation with Joshua, since I had no idea that anything like that was going on. Up until then, Joshua was someone I respected but didn't pay much attention to.

After my family and I got home, I was able to do some serious thinking and praying. I had several talks with my parents who already felt peaceful about Joshua being my future husband but they wanted me to feel peaceful about it, too, before we did anything. After about a week, I was to the point where I felt comfortable joining the email conversations that Joshua and my parents had been sending back and forth. Daddy invited Joshua to come visit for a few days at the end of March and then ride up to the Family Week camp-out with us.

It was on the last day of Joshua's visit that I finally said that I would marry him. The next day we drove to Kentucky to go to Family Week. One of Joshua's friends was getting married that Sunday and Joshua was part of the wedding party. During the reception Joshua made the public announcement that we were to be married. As the days of our camp-out went by we grew more and more comfortable around each other and my previous good opinions of him were confirmed.

When Family Week was over, Joshua rode back to our house with us and we were joined by the rest of his family later. Even though Joshua and I already felt committed to getting married, we wanted to have an official betrothal ceremony to solemnize our commitment. We settled on April the 15th and wrote up our marriage covenant together. Both of us wanted a small ceremony with just our families. I expected to be more nervous than I was, but by that time I was feeling so happy and blessed that Joshua was to be my husband that I didn't feel upset or stressed anymore.

Our betrothal was a wonderful day. After the ceremony we drove out to my grandparents farm and spent the afternoon enjoying the beautiful Spring weather and talking about how strange it was that we could have become so attached to each other so quickly!

Joshua took a plane home to Colorado, leaving me in Tennessee, but we email often and have our rings, the symbols of our covenant, to keep us company until our wedding day.